Deus Ex
The future is here, and the world is a dangerous and chaotic place. Terrorists operate openly, killing thousands; drugs, disease, and pollution kill even more. The world's economies are close to collapse, and the gap between the insanely wealthy and the desperately poor has grown to the size of the Grand Canyon. Worst of all, an age-old conspiracy bent on world domination has decided that the time is right to emerge from the shadows and take control. No one believes it exists. No one, but you.
In Deus Ex, a thrilling role-playing action-adventure game, you play the part of a powerful nano-technologically augmented anti-terrorist agent. It's up to you to stop the conspirators from achieving their goals.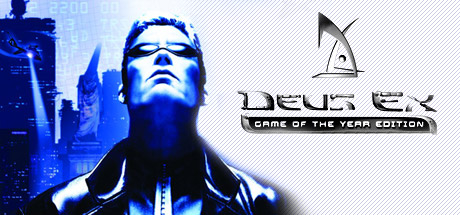 1.002f ... 1.112fm
Deus Ex: Human Revolution
Deus Ex: Human Revolution is an action role-playing stealth video game developed by Eidos Montréal and published worldwide by Square Enix in August 2011. It is the third game in the Deus Ex series, and a prequel to the original Deus Ex. The gameplay—combining first-person shooter, stealth and role-playing elements—features exploration and combat in environments connected to multiple city-based hubs. in addition there are quests that grant experience and allow customization of the main character's abilities with items called Praxis Kits.
Set in the year 2027, Human Revolution focuses on ex-SWAT officer Adam Jensen, who is employed as security officer for Sarif Industries, a company on the leading edge of advanced and controversial artificial organs dubbed "augmentations". An attack on Sarif Industries that apparently kills researcher and Adam's ex-girlfriend Megan Reed also leaves Adam critically injured. To save him, company CEO David Sarif subjects him to an extensive augmentation procedure: six months later, now recovered and possessing advanced augmentations, Adam sets out to pursue his attackers and the shadowy organization behind them. The story explores themes of transhumanism, the growing power of megacorporations, and their impact on social class. It also uses the series' recurring cyberpunk setting and conspiracy theory motif.
---
A director's cut of Human Revolution, titled Deus Ex: Human Revolution – Director's Cut, was announced in April 2013. It was co-produced by Eidos Montréal, Australian developer Straight Right and Canada-based Snowed In Studios. One of the major changes was the boss arenas: while they could not create non-lethal options to take down bosses, the team created alternate strategies for players who took a stealthy and otherwise non-lethal path. They also made adjustments to the energy system, improved enemy AI, and upgrades to the lighting and shading systems.
2.0.0.0
Microsoft Office (installer only)
This entry is for testing the installer of Microsoft's Office application suite. The individual applications included in the suite have their own AppDB entries; test results for running the applications should be submitted through their individual AppDB page.
Wikipedia's entry on what applications came with each release of Microsoft Office.

2000